Do you want to ignore a medium which has 5.6 billion of the monthly users? Yes, that is a perfect platform for promoting the business.
If you do not utilise messenger for your marketing plan, you will lose the fantastic chance to leverage your metrics.
Let's get into the topic.
Introduction to Messenger Marketing
Lots of peoples are on online in this digital era? Communication was made easy with the help of technology and its development.
Most of the people have their smartphone, and nowadays it becomes part of their life.
Anyone can express how they feel, what they think on social media and they are now becoming digital citizens of the world.
Messenger 2.0
The messenger comes from social media, and it is widely used by most of the population in the world.
It becomes a new tool for communication as it provides a lot of features from calling a person (bot voice & video), sending a text or image or video or any other documents.
Messengers made the new perspective way of communication as we can share our live location and lot of other features.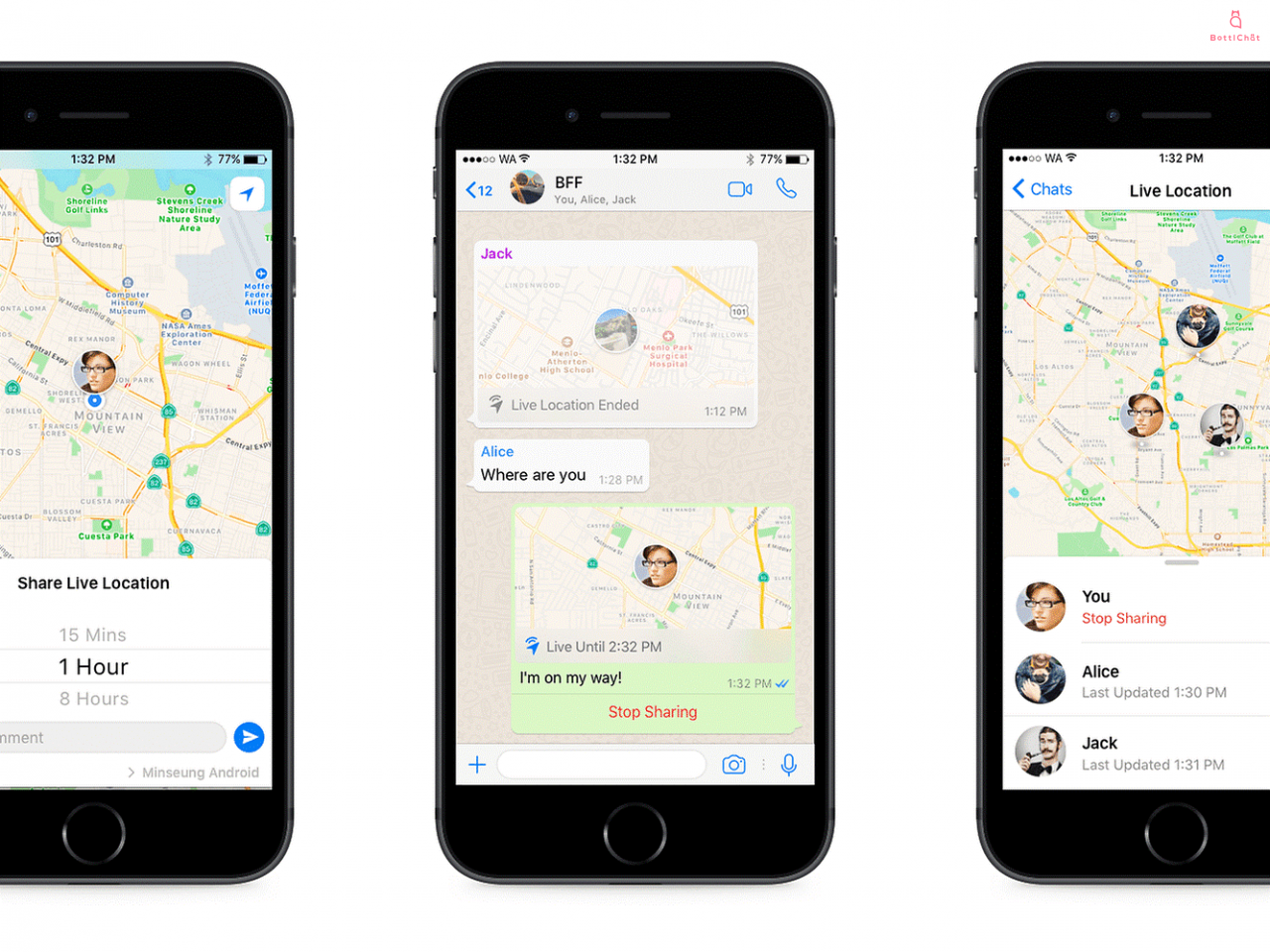 A lot of peoples are getting rid of old-fashioned email, SMS and phone calls and started using messengers like WhatsApp, Facebook Messenger, WeChat and many other applications.
Also, most of the population nowadays have smartphones with them, and it made it easy for them to download and use these kinds of messenger applications.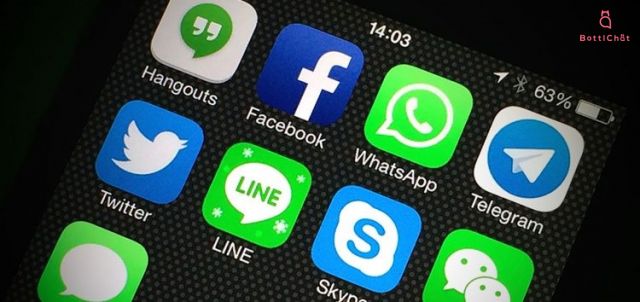 Communication is Changing
A lot of messenger applications are available in-store, and they help peoples to connect with their community easily.
It also helps the business to reach their audience easily, as it helps them to acquire quality leads.
Instead of trying to promote your product or service in the social networks, why don't you work messenger platforms and start promoting your content?
The number of people using messenger apps surpasses the population in social networks.
It gives the businesses a clear sign that they need to reach their potential customers through a messenger platform.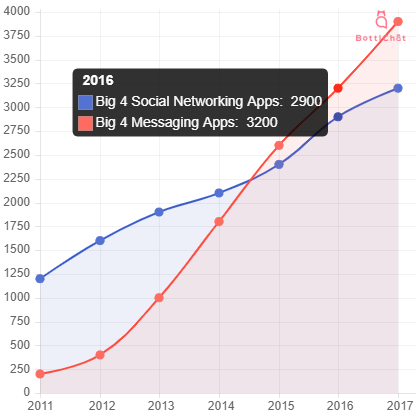 Source: https://www.businessinsider.com/the-messaging-app-report-2015-11/?IR=T 
You can't be able to send messages to your audience individually as it is a time-consuming process.
Is that any possible methods to reach the audience in the messenger platform? Yes, through messenger marketing!
What is Messenger Marketing?
Like other marketing channels, you can promote your product or services with the help of messenger chatbots and Ads in messenger platform.
Businesses can promote their content, which helps their audience with useful information and tips, in which it led to an increase in trust with the brand and also increase in sales.
Messenger marketing helps the business to perform conversational marketing that help your prospects to get every doubt cleared and also it will turn them into customers.
You can provide useful information, can automate the content promotion, can build campaigns, can reach them out personally like email campaigns. These methods can help a business to build a rapport with their audience, unlike any other marketing channels.
Facebook, topmost social networking giant made an announcement on April 2016 that third-parties can build chatbots that can interact with users through messenger platform. This announcement makes the first step, and it gives a new dimension for messenger marketing.
The number of peoples using Facebook messenger is 800 million each month and is increasing gradually. It will be the best opportunity for businesses to interact with their customers and acquire new leads.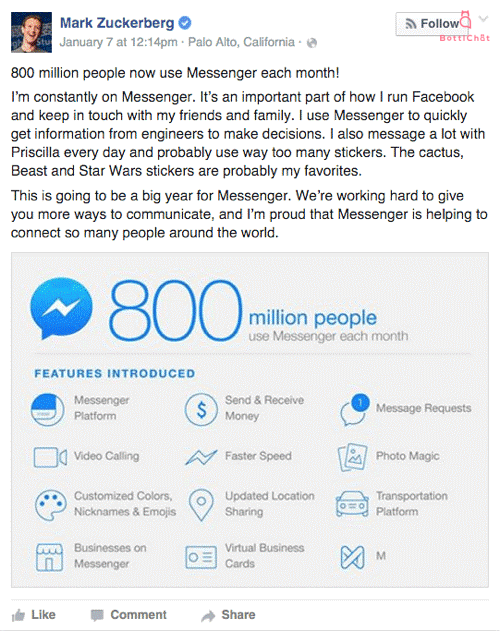 Source: https://www.socialmediaexaminer.com/how-to-use-facebook-messenger-for-your-business/ 
Time to Take the Step
Would you ignore this new, emerging, and less-competitive platform where you can promote your service or product?
If you do not use messenger reach approach on your marketing plan, then you are losing the opportunity to get your potential customers before your competitor does.
Research says that most peoples want to communicate with businesses through messaging instead of phone calls.
And messaging doesn't mean the one-way communication here like emails; peoples like to the messaging communication to be conversational. That's where messenger marketing comes into the picture.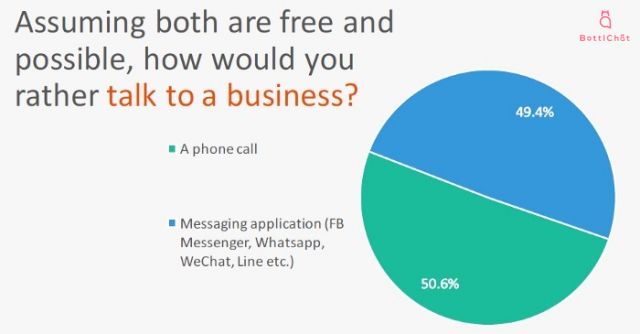 Source: https://www.ubisend.com/insights/2016-mobile-messaging-report 
Though messenger marketing is a buzz word in the marketing field, a lot of businesses are not aware of it. This is the time for your business to enter and get potential customers before it becomes diluted like other channels.
As I said before you can't reach your potential customers individually. Because it is a time-consuming process and it will cost you a lot.
To make things easy, you can use messenger chatbots to automate reply, broadcast your response and a lot of more options. So, what are chatbots and how it helps businesses to automate their activities on messengers?
What are Chatbots?
According to Wikipedia,
"A chatbot is a computer program which conducts a conversation via auditory or textual methods. Such programs are often designed to convincingly simulate how a human would behave as a conversational partner, although as of 2019, they are far short of being able to pass the Turing test."
Chatbots are programmed to have a conversation in an automated manner, which helps peoples to handle the chat request when human is not available at that time.
Chatbots are used in any industries where businesses want to help their customer on queries, product support, customer care and in a lot of other sectors.
Chatbots can be embedded in websites, applications and even in messengers too.
Chatbots are becoming a new method of communication nowadays as it has a lot of advantages like automation, cost-effective, 24*7 support, and personalised interaction.
All these advantages will lead the business to increase in their metrics.
Difference Between Website Chatbots and Messenger Bots
Both are chatbots, and the purpose is to start the conversation or automate the chat flow in a programmed manner.
Here we are going to see some common difference between these two website chatbots and messenger chatbots,
Website Chatbots are built by some tools with dialog flow features that can be embedded in the websites. Messenger Chatbots are also created by many tools which can also be integrated into the websites.
Website Chatbots can help to gain subscribers to promote content (using email marketing), while Messenger Chatbots can also help you to gain subscribers and can promote your content on the same medium (no need to approach for email marketing plan).
Website Chatbot is available only on the websites where you can automate the chats, while Messenger Chatbot can be available on sites as well in the messenger platform so that you can reach your audience out of your websites.
Why is Messenger Marketing the Smart Thing?
First, it is not crowded, like other marketing channels like SEO, Email marketing channels. So, it will give you new opportunities to reach your audience.
Second, people love to communicate with business over messages rather than calls. So, be the first person to give a new experience of interaction with your customers before your competitors do.
Nowadays, most peoples spend their time on messaging applications rather than any other apps on their mobile devices.
Research from Yahoo's Flurry shows that an average mobile app retains 11 % of users after 12 months, while messaging applications retain 62 % of users after 12 months which is 5.6 times greater than other applications.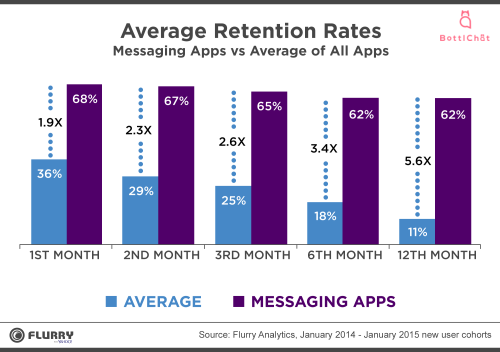 Source: https://www.flurry.com/post/115195353190/messaging-apps-the-new-face-of-retail-banking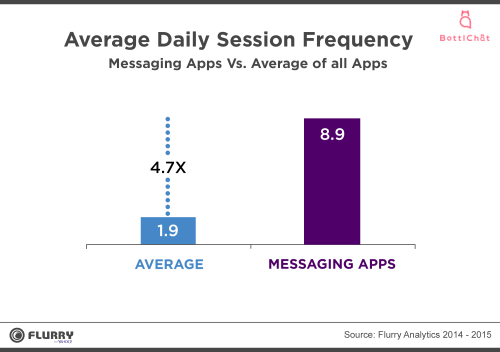 Source: https://www.flurry.com/post/115195353190/messaging-apps-the-new-face-of-retail-banking 
Now, why messenger marketing is the smart thing for business? Why you as a business person need to think about giving new experience to your customer and gain a lot of trusts.
New and Wonderful Experience
People always love new things and technology, which is helpful and gives them a new kind of feel. Give your customer a unique and wonderful experience through this messenger platform.
Reach your Audience Directly
One of the difficult tasks for business and marketers is to reach their audience directly. Using this opportunity, you can contact your audience directly on the messenger platform.
You can message them directly and solve their queries and help them on their journey with your business.
Handle e-Commerce Transactions
In the e-Commerce industry, abandoned carts are the main problem which misses many opportunities in selling their products.
By using messenger marketing business can retarget the product to the customer and even can handle the transaction on the same messenger platform.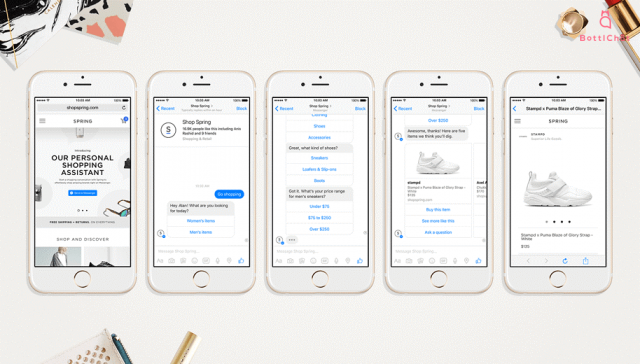 Save Resources on Customer Care
The main thing for the business is taking care of the customer with their service and help them with their queries and doubts.
You can't hire a person who can work for 24*7 hours as it was impossible. But chatbots can help you with this, and they will be available any time to help with your customer service.
You can embed the chatbot on your website so that it will help your customer to communicate with them. Your customer can receive your texts on their messenger, and they don't want to come to your website again if they're going to ask you anything.
Is Messenger Marketing only for Enterprise?
Businesses are using this new opportunity to increase their metrics and built trust over the customers.
Messenger marketing is becoming a part of the marketing strategy for many companies, and they found a new way of promoting their product or service through this messenger platform.
But messenger marketing is not limited to certain limits and industry. Anyone can use this marketing channel and start promoting their things.
Start from small business to enterprise, and anyone can use messenger marketing based on their goals and visions.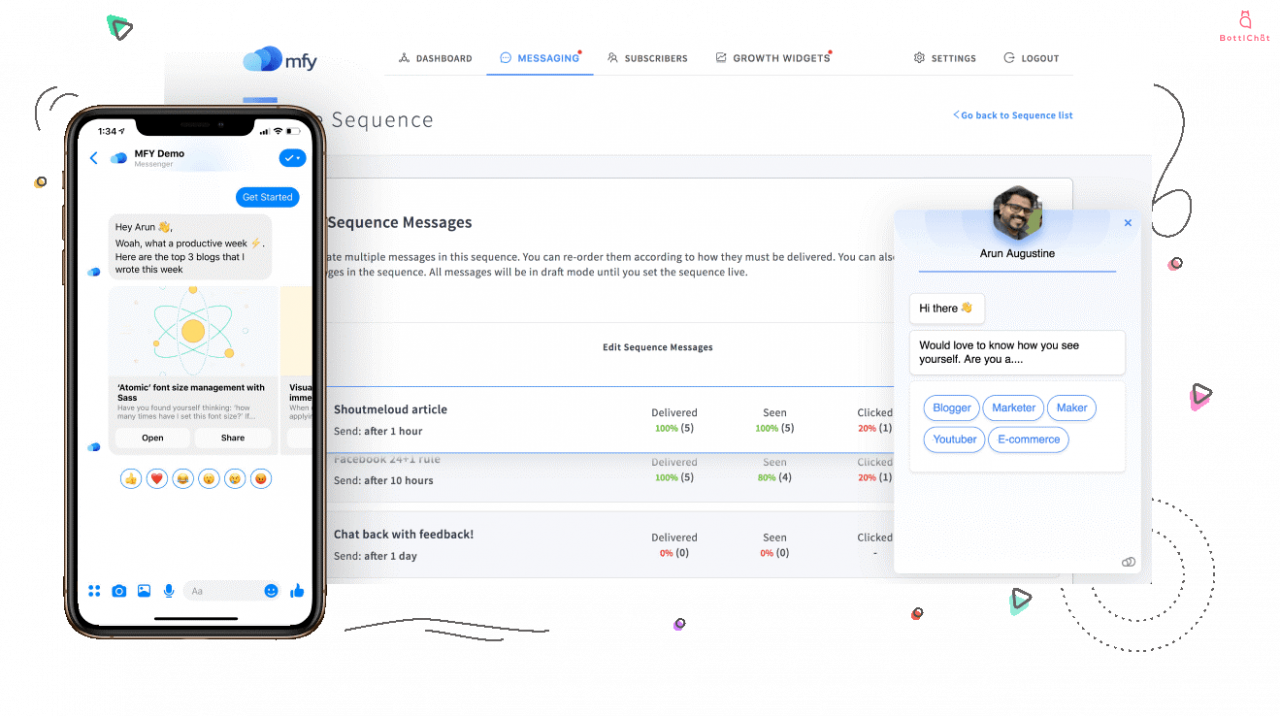 The main difference between small business and enterprise on using the messenger is the amount of the subscribes and the features that offered among them.
The ultimate goal for the businesses is to give their customer a better experience and service, which can increase the sales and trust among their competitors. So, it makes no difference whether you are a small business or an enterprise.
Any business can use this messenger marketing opportunity and bear the fruitful opportunity by this conversational marketing channel.
How to Get Started to Grow your Business
Before you start the fun job of utilising messenger for business purpose, you have to follow some steps to make your Facebook messenger work for your Facebook page.
If you had a Facebook business page go ahead with the following steps, or else create a new business page on Facebook.
Assuming that you had a Facebook business page,
Enabling Messaging for your Page
Go to your Facebook Page,
Click Settings on your Facebook page
In the left column, click General tab
Among many options, select Messages and click Edit
Check the box, Allow people to contact my Page privately by showing the Message button
Select Save Changes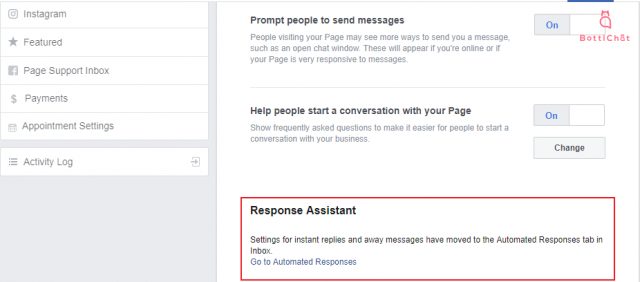 Enabling Instant Replies on Messenger
By allowing the instant replies, you can reply to your audience instantly when a user sends a new message.
You can post how long you take to respond to their message, redirects them with to our website.
Use a call to action option like setting your phone number or mail address so that they can contact your business.
Steps to Turn on Instant Replies
On Facebook Page, Select Settings
On the left column, select Messaging
On Response Assistant tab, toggle the answer to
Select the Change
Select the message as Appropriate
Select Save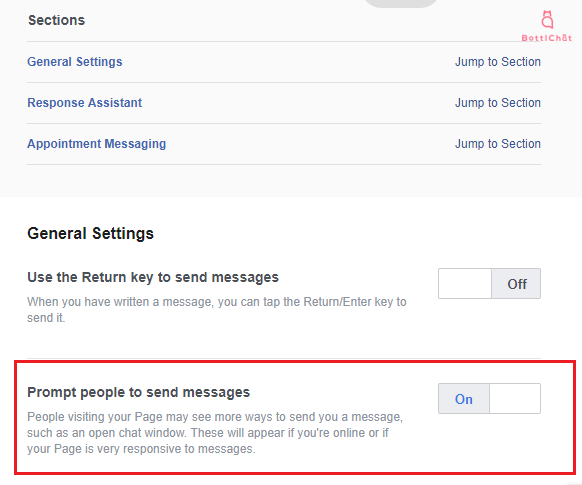 Enabling Greeting Messages on Messenger
Greeting texts are simple messages initiated when someone starts a conversation on your Facebook page.
You can use the greeting messages to inform your audience about your business and the services you are providing.
Steps to Turn on Greeting Messages
On Facebook Page, Click Settings
On the left column, select Messaging
On Response Assistant tab, toggle the answer to yes for Show a Messenger Greeting
Select the Change
Edit the Greeting Message which represents your business
Select Save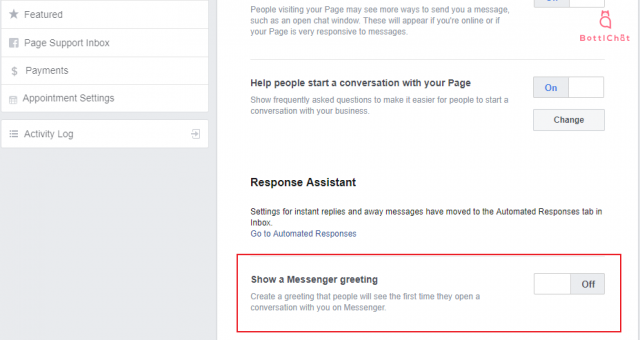 Methods to use Messenger Marketing
Lots of statistics and points signals that messenger marketing is the next big opportunity for acquiring customers and gaining a new audience.
Here we list some methods to utilise messenger marketing for your business.
Lead Generation
Messenger Chatbots provide the cost-efficient way to generate lead and sales. You can embed your chatbot
On your website for live chat support,
Popups on your website as a lead magnet,
Merge your chatbot on the product page,
Use chatbot on your check-out page,
Use separate landing page with your chatbot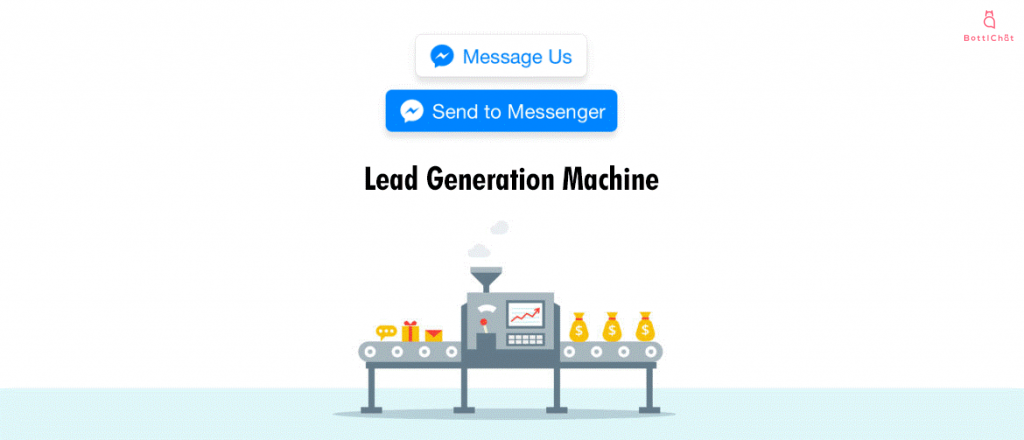 Content Delivery
Businesses can promote their content through Facebook subscription messaging, and it drives the traffic to your website. Thus, it will help you to generate sales.
If you are broadcasting non-promotional content, you can get the visitors, and it helps your audience with some useful information.
If you are planning to broadcast promotional content, you can promote your product or service in which it gives you sales.
Re-Targeting
Re-targeting is the common thing in e-Commerce industries, and it helps them to sell more to their customers. An abandoned cart is the big-problem which can be diluted by retargeting.
You can place Ads, Display banners, throw emails but retargeting on messenger gives you the best result as it holds 80% of open rates and 60% of Click rates.
Also, people will interact with this kind of messages immediately in which you don't have to wait for results.
Drive More Sales
If you had an online business or physical store, messenger marketing would always help your business to drive more sales.
Promoting your shop or product through messenger marketing will always provide a better result.
A lot of methods like personalised flow bot, customised landing page, and direction to your shop, promoting special offers.
You can use many other methods to create a funny, interactive, killer sales bot to leverage your sales.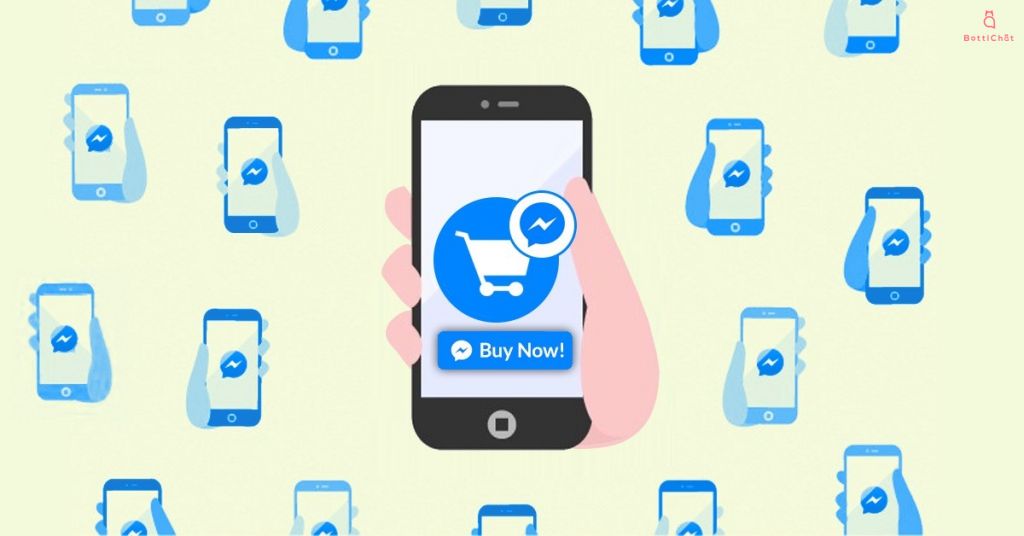 High Engagement Rates
Engagement is the most important metric which most digital marketer wants. You can get high engagement rate by using messenger marketing.
Using automated chatbots on your website to handle customer queries, chat with live visitors in which it helps on your visitors to get their doubt and needs get cleared.
Also, it helps in improving the SEO score as it reduces the website's bounce rate.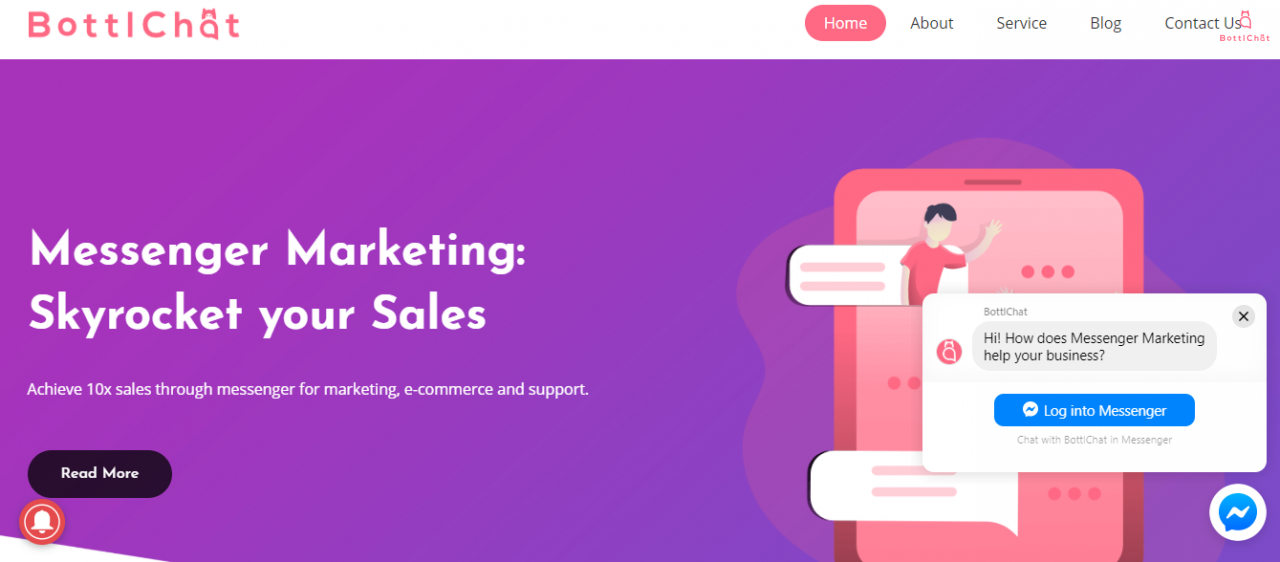 Best Messenger Marketing Practices
Messenger marketing is new to the marketing world, and it is evolving day by day.
Many businesses are using messenger marketing on their strategy, and it gives them a unique opportunity to generate more business.
Here are some of the messenger marketing practices that you need to follow while planning your strategy,
Set Your Goal
Without a goal, you cannot achieve anything!
Right?
You need to fix your goal first for your messenger marketing campaign. It will help you to track the progress of your campaign.
Goals of messenger marketing differ among many businesses, and every business has its targets on their marketing plan. Some peoples want the business to,
Drive the traffic to their business asset,
Generate lead and Improve sales,
Promote the brand on this channel,
Awesome interact interaction
Businesses need to fix their goals like why they want to use this opportunity and how it will help to meet that goal?
Segment Personalization
Segment your audience and prepare a personalised flow to give them complete satisfaction on your customer's service.
Yes, you need to understand your customer's expectation first. Create a campaign or flow which give the information entirely to your audience.
Create separate group tags and customised chatbots and give them a personalised experience. It will gain the trust of your audience.
Be Transparent
Be Transparent.
Yes, you heard that. Right?
Your business needs to be transparent to your audience so that you can gain trust from them. It will lead to an increase in sales and also the customer will become your brand ambassador.
Keep Learning
Messenger Chatbot is just a programmed flow; create a chatbot flow and not checking that for months!
It is not recommended, you need to learn and understand the pattern and the need of your customer continuously. It will make you keep in trend and build your customer loves your business.

Human-on-Hand
Messenger Chatbot will help you to provide the best customer service, but it can't help you at the extreme end.
You need a Human on the operation to handle the chats at some ends. It will always help business that some person is at the other end to help them (you don't have to make your customer feel that they are talking with programmed bots).
Things Need to Consider while Creating Messenger Chatbot
Now you got some ideas about messenger chatbots and how it helps with the businesses.  If you are planning to implement this marketing channel for your business, here are some things you need to consider while creating messenger chatbot.
Research your FAQ
Customers doubts and their questions give you some idea while building a conversational bot. Research frequently answered questions about your business. It provides you to develop your bot conversation to help on the customer's perspective.
Build Bot with very Own Conversation Tree
The messages you are going to send to your audience will be on their slang. Build the bot on their language and keep the conversation flow more personalised. Give your audience the feeling that you are taking care of them.
Give Voice to Your Bot – Welcome Message
Instead of popping out a regular welcome message text, try a personalised audio welcome message. It will give them a new experience and induce them to explore more on your bot flow.
Track Your Bot with UTM
If you are planning to start a campaign for your business, you can use UTM (Urchin Tracking Module) on your bot flow's Click to Action (URL). So that you can track that from google analytics individually to know where the visitor is coming from whether from your messenger campaign or Ad campaign.
Chatbot Newsletter
You can see that a lot of websites use email newsletters to get subscribers for their email marketing channel. And they start sending mail to notify the new updates, blog posts, offers, discounts and a lot more.
You can use that for messenger marketing; also you can use chatbot newsletter to get more subscribers.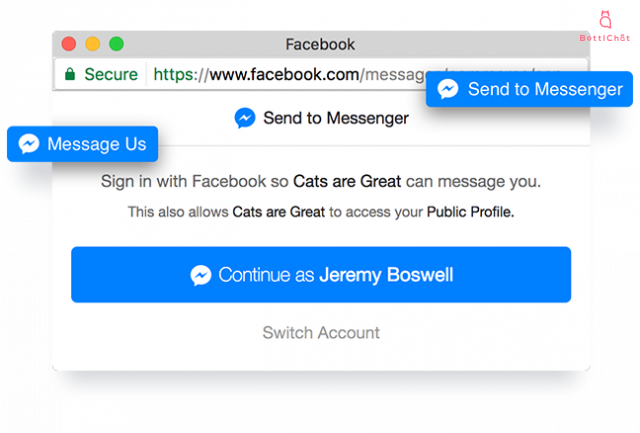 Simple Survey
Create a simple survey among your audience and ask them various questions to know their needs and expectations. You can get a lot of ideas and can understand what to include and how to build a flow which meets your customer's experience.
How can you Promote your Messenger Chatbot?
Ok, now you have some ideas on creating a messenger chatbot, assuming that your messenger chatbot is ready to go.
Now, you need to promote your messenger chatbot. So that you can gain more audience and customers, let's see how you can promote your business's chatbot.
Add Messenger Chatbot on your Website
You can add your messenger chatbot on your website to initiate a chat. It will make them subscribe to your bot, and it also helps them to interact with a person to solve their queries.
Dedicated Landing Pages
You can create a dedicated landing page with your messenger chatbot and start promoting that landing page. Visitors will get excited and start the conversation with your messenger chatbot as it gives them a new experience of interaction with business.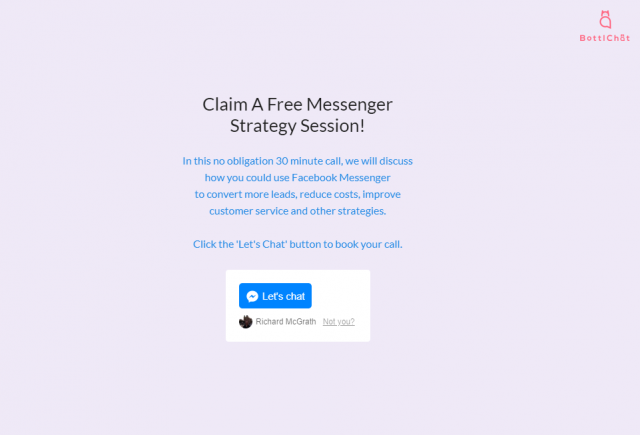 Messenger Marketing Subscriber List with Paid Ads
Nowadays, business starts running ads on Facebook to generate more leads because Facebook is the largest social network with a lot of population.
If you are already running an Ad on Facebook or planning to run an Ad, you can use "Send Messages" like the below image. By this option, you will get two advantages (promoting your business by Facebook Ads, and getting subscribers to your messenger chatbot channel).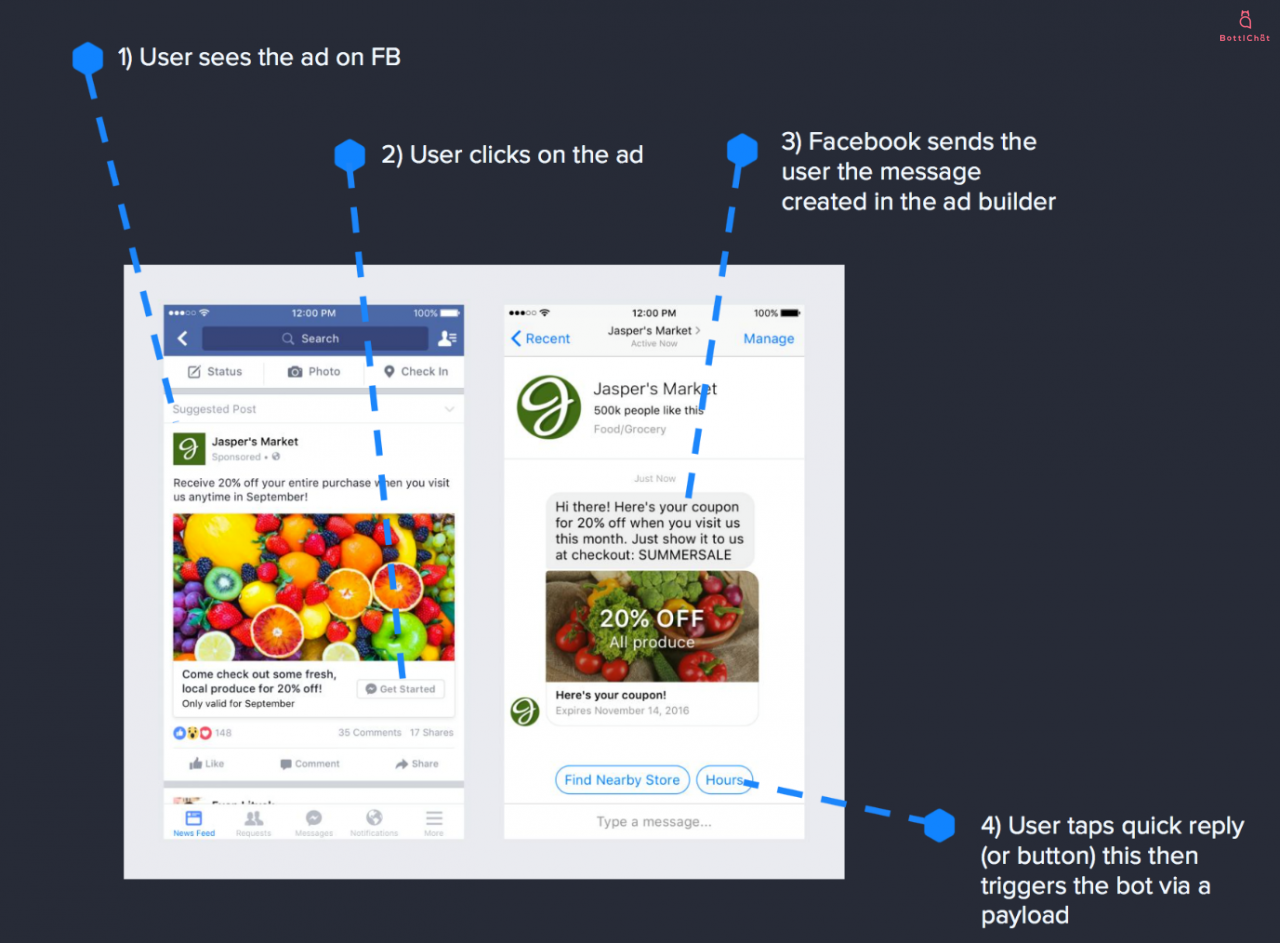 Messenger Chatbot on your Email Signature
You can also merge your messenger chatbot link on your email signature. People who will receive your mail can also contact through your messenger chatbot link.

How can you use Messenger Chatbot Effectively?
Creating and promoting your messenger chatbot will not help you in a long-term.
Yes. If you want to keep this messenger marketing channel alive, you need to use this platform efficiently. Though it is an entirely new platform for marketing, it will get diluted soon.
You need to keep working on your chat flow periodically so that it will give the best user experience for your audience. To keep your business rocking on this marketing platform, you have to make sure that you are following the below things periodically.
Optimise your Messenger Chatbot
Personalised content experience
Know your Subscribers better
Improving Messenger Marketing Funnel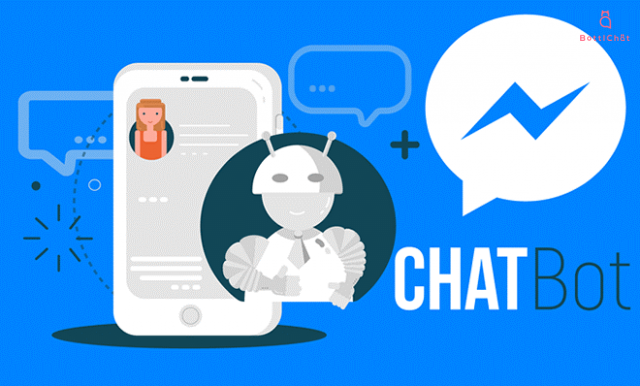 Strategies to Increase Chatbot engagement
Messenger Marketing involves the likeliness & engagement of a business's Messenger chatbot. People hate when things go in the same way as it is. Especially in buying products and services.
So, how can you create an amazing and engaging messenger chatbot, which makes sales and conversion with fun?
Here we list some methods and strategies that make your bot very engaging.
Coupons and Discounts
You can promote your coupons codes and discount codes through messenger bot platform, which makes your bot engaging.
You can embed a popup or widget on your checkout or product to avail these codes for your visitors.
Gaming
You can create a gaming bot flow on your messenger chatbot. Games like trivia, quiz, fortune wheel, etc., can be used in messenger chatbots. It will increase your chatbot engagement.
Challenge
You can create a challenge which is similar to your industry and keep your subscribers engaging with your messenger chatbot. Some examples are,
30 Days Blogging Challenge
1-week Vegan Challenge
2 Month Yoga Challenge, etc.,
E-Book or Guide
If you had a eBooks or descriptive guide, you could promote through your messenger chatbot.
Mini-Course or Tutorial
Lots of tutorials are available on the internet today, but people have some doubts about it. To make it more engageable and get the doubts to get cleared, you can promote your tutorial and mini-course through messenger marketing.
Reminder
Reminders are beneficial for humans, and it is the most important thing to get things done. You this messenger platform to remind your subscribers respect to your industry.
Messenger Chatbots – Lead Magnets
Messenger Marketing is very new to the marketing industry, and it will bring you to cloud-nine when using this efficiently.
Surely, messenger chatbots will act as a lead magnet
Messenger chatbots will make a good impression when people get the messenger from their favourite brand.
By using this platform properly, it will attract leads and generates you more sales.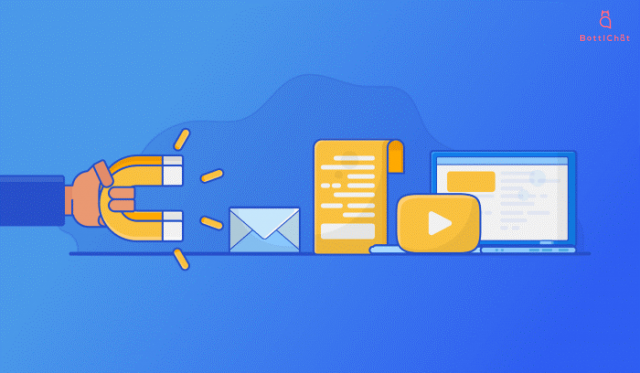 Keep it Simple and Fun
Always keep in mind that people love to be engaging with business which is more engaging and fun. So creatively built your bot and always "Keep it Simple & Fun".
Conclusion – Will Chatbots Replace Emails?
"A Multi-Channel view sees the connections between a Customer and a Channel" – David Baker, Co-Founder & COO, Cordial, Inc.
Though messenger marketing provides better results than email marketing, it is not recommended to ignore the email channel.
Yes, Email Marketing remains the king of the marketing channels. Merging email marketing, along with messenger marketing, provides the best result.