People who are trying to acquire quality leads and generate more sales on the digital marketing platform are already fed up with the dilution of various channels and the competition of the fellow competitors and marketers.
Then, Facebook's Messenger Marketing comes into the picture, which helps a lot of business to get into their audience individually as Email does.
When it comes to email marketing vs messenger marketing, you can get a higher conversion rate on the Messenger rather than mails.
On this new platform, Facebook's subscription messaging is a fruitful chance for business and marketers as they can send messages which give their audience useful information.
It helps the business to increase brand awareness and drive traffic to their website, which led to increasing sales. Now, the messaging options in messenger marketing are
Standard Messaging
Subscription Messaging
Sponsored Messaging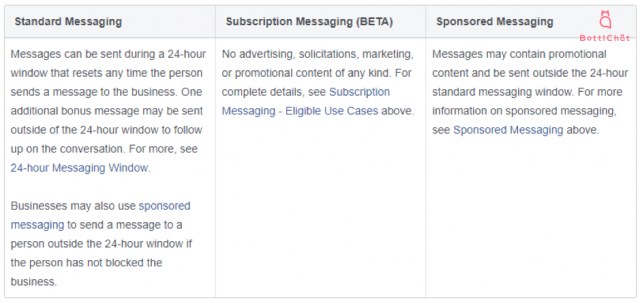 Now you know the fundamental difference between the messaging options. But why subscription messaging is the fruitful chance for the businesses?
Here, we will be going to see more about Facebook subscription messaging and how it will help in your marketing plan.
Also, we will see the new update from Facebook on subscription messaging and definite steps to take, which allows you to send the subscription messages after the update by Facebook.
Let start with the basic introduction on subscription messaging.
What is Facebook Subscription Messaging?
Facebook subscription messaging is the advanced feature which allows the Facebook page admins to send non-promotional messages to their community in a recurring period through Messenger.
The social media giant – Facebook allows businesses to interact with their audience through Messenger in many means.
Among them, subscription messages enable the business to send updates, useful information and even helps the business to keep in touch with their customers.
It provides an excellent opportunity to send messages to their community in an interactive manner.
Standard Messaging vs Subscription Messaging
As I said at the beginning of this post, Facebook allows us to send three kinds of messages to our audience where standard messaging and subscription messaging are the prominent ones.
Sponsored messaging nothing but running ad campaigns in the messenger platform that we will see in a separate post.
What differentiates standard and subscription messaging, and how can the businesses use them effectively?
Well, standard messaging is nothing but sending promotional messages like offers, discounts, coupons, etc., to the subscribers in the 24-hour messaging window rule created by Facebook.
"The 24-hour messaging window is nothing, but a business can send a promotional message to the person after 24 hours the user messaged the business through Messenger. People expect Business to respond as quickly as possible, it will help your customer not to wait much longer and also will give effective and better results."

Facebook subscription messaging is broadcasting the non-promotional messages like updates, news, recent market trends, etc., to the subscribers that excludes from the 24-hour messaging window.
You can send subscription messages to your audience anytime (But it is not recommended, as it will make them avoid your messages).
How does Facebook subscription messages work?
Nowadays, Facebook's Messenger is not only for messaging. You can play a trivia there, get recent trends and updates also you can purchase through messenger platform.
It can also handle your customer service and can also send relevant content to your audience with very high open rates than email marketing.
Even Facebook limits the time limit of 24-hours for sending promotional messages, and the subscription is out of that time frame.
You can reach your audience anytime even after 3 or 4 hours of your previous message broadcasts. But you cannot send promotional content in this type as Facebook does not allows it.
You can send the subscription messages by promoting content on these three categories if you try to promote your product or offer by asking your audience whether they can receive the details on special offers.
If they choose "Yes" by clicking the opt-in button where the business placed, it below the content. This message will become standard messages, and this kind of promotional messages will get restricted on subscription messages.
How to use Facebook Subscription Messaging?
For broadcasting your subscription messages, Facebook limits the content into three categories,
News: Where your audience can receive product updates, news, events, announcements, recent trends in sport, real estate, entertainment, traffic, weather, economy, finance, religion, and politics news from you in their Messenger.
Productivity: Where your audience can receive tips, how-to-do and reminders from you.
Personal Tracking: Here, you can send useful information, such as fitness, health, and finance.
For example, consider a Mithun is running a cafe business in a town. He decides to use the messenger features to get more customers and built awareness.
For that, he needs to reach his potential audience and provide them with updates and information, which helps them that are relevant to his business.
So, what kind of content he can use for this subscription messaging. He can,
Send a product or service order confirmation which gets pre-ordered by the user.
Send a reminder about a new event in his cafe on a special occasion.
Send Order confirmation, delivery details, or even payment declined details to his user.
Send what is new going to happen in his café to let notify his audience in prior.
Maintain Human-agent support to solve any queries and helps his customers with their doubts.
Above is an example of how Mithun can use broadcasting opportunities to engage with his audience and no matter what business you are in. You can use broadcast messages to reach your product or service to potential customers.
Facebook Subscription Messaging Examples
Facebook subscription messages should be non-promotional, and it will always come under those three categories, as I mentioned earlier in this post.
Every business has its own need and this Facebook subscription messaging features, and it acts like the same as email marketing does.
But you can achieve high open conversion rates, instead of emails, and this feature fits every business to get more awareness about a brand.
Here in BottlChat, we also use to send broadcast messages to our audience in intent to give them tips and recent updates on marketing. Here is some example we applied to our subscribed audience.
Learn how to increase your ROI with these 5 simple steps and try it on your own campaigns.
A lot of changes in the search engine's algorithms! Visit our website to know how to build a website which resists on SEO changes.
Facebook had made changes on their messaging policy which every business needs to know and act now.
Voice search is evolving, and it will dominate the internet marketing in future. Learn how to implement this technology on your marketing strategy and stay on the lane.
Less than half of Google searches results zero-clicks. Read more about what Rank Fishkin said about the changes in Google's search experience.
These are some basic examples of subscription messages that we are using in BottlChat, and you can also use subscription messaging features to leverage your traffic and sales.
How is Messenger changing in 2020?
Facebook is updating its messenger platform in many aspects to improve the better experience of the users.
They are simultaneously helping businesses to attain new customers and informing the old customers with product updates and services.
There is a lot of fuzz roaming around the internet about the broadcast changes. And finally, Facebook broke the rumour with an announcement that page-level permission is required to broadcast the message with subscription messaging features.

Yes, before that, Facebook only gives app-level permission for subscription messaging features. Now every profile and page need to get permission to use this feature.
Facebook will not take any action till July 31, 2019, and after that, you need to get this permission to send the broadcast to your subscribers.
Afterwards, you will not send the non-promotional or promotional messages to your audience.
Updates on Facebook Subscription Messaging and Changes – August 2019
This Updates will take effect from January 15, 2020.
New Update from Facebook changes the game of subscription messaging and 24-Hour messaging window. The Changes in 24-Hour messaging features allows the business to send one promotional message to the user who will interact with their business's messenger bot and that's all.
They can't send additional 1 follow-up promotional message under this 24-Hour messaging window. If they need to send promotional messages, they can use sponsored messages.

Changes in subscription messaging features shrink 16 messaging tags into four messaging tags (post-purchase updates, event reminders, and account updates, and human agent (closed beta). To give the best user experience and to reduce spamming the users, these changes will come in to picture.
Subscription messages can be sent by businesses those who have registered their page on Facebook News Page Index, it will be effective from 15th January 2020. Facebook wants to regulate this feature to prevent users from spammy broadcast messages.

All these new updates and changes will get into the track from 15th of January 2020. Still, the old 24+1 messaging window & 17 messaging tags will work for now and make sure you stick in this game. Plan your messenger marketing strategy to adopt the new changes and sculpt your conversational marketing to improve your business outcomes.
Who Should Apply for Subscription Messages?
Since Facebook wants page-level access instead of app-level access every Page admins who want to use this subscription messaging features need to apply.
Though if you are using chatbot service providers like SilFer bots, Manychat, Mobile Monkey and many more, you need to make this review process individually for every Page.
A business who wants to connect with their customers either an old one or a new one through a most-populated channel can use messenger marketing.
Because it results in 80-90 % of open rate and 20 % of click-through rates, which is higher than any other channel.
By broadcast, the relevant content to our audience in a proper and attractive way will results the better metrics on,
High Open rate with a reasonable response rate
More leads, Sign-ups, Appointments, and Conversions
Drive the traffic to our brand's asset (website, Channel or many)
Can achieve high CPA which is 95% when compared to Facebook Ads
If you want to gain all these benefits of all your marketing plan should contain subscription messaging on the messenger platform. You must apply for this feature even if it takes some time to review, and it's always best to leap.
Facebook subscription messaging deadline
In 2018 December, Facebook made a big announcement, and it was unnoticeable by many marketers that,

Though this update in the policy impacted many business pages, it was not get noticed for many weeks.
Until December 4, 2018, Facebook made the deadline for subscription messaging on December 13, 2018, but this deadline extended on December 4, 2018.
Still, Facebook is recommending the pages to apply for the subscription messaging, and they are still reviewing the requests.
So, the page owners can still apply for the subscription messaging, which permit them to broadcast messages to their audience.
How to apply for Subscription Messaging?
By now, you will get some idea about Facebook subscription messaging and how it helps many businesses out there to leverage the metrics. Now it's time to learn how to apply for subscription messaging at page-level.
The easiest thing is it will take 5 to 6 steps to complete the procedure, and the trickiest thing is that Facebook will manually review your request process.
Step by Step Guide
Here I will explain the procedure in step by step manner and hope it will help you. If you had any doubts or suggestions, feel free to reach us.
Step 1: To apply for subscription messaging, go to your Facebook page and follow the steps.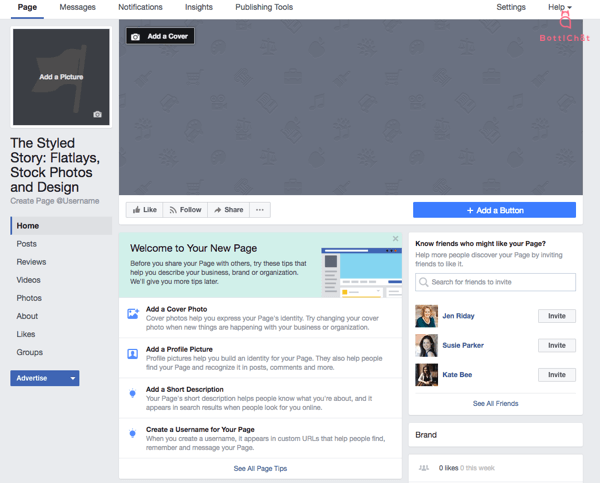 Step 2: Click on the setting and go to the messenger platform.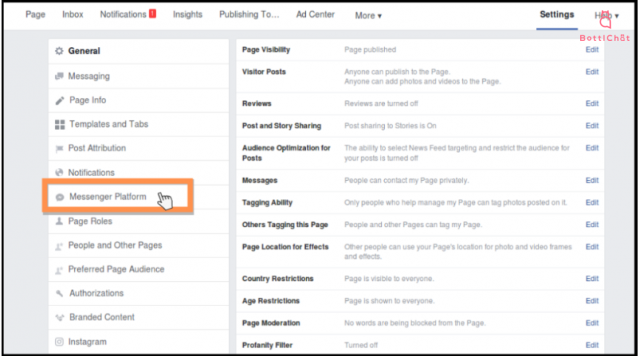 Step 3: On the messenger platform tab, click Advanced Messaging features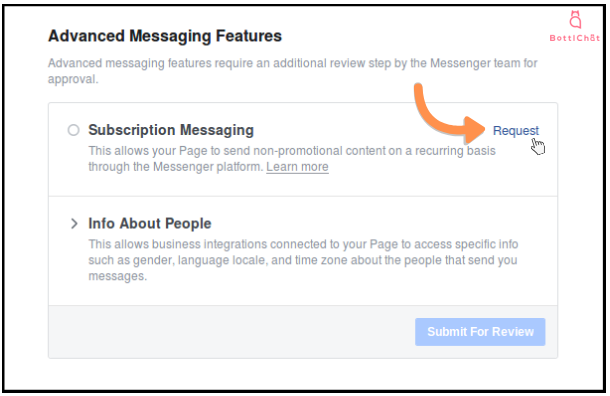 Step 4: Click the Request link on the two options above. It will open a popup where you have to apply the form.
Three-Step Process to apply the form
Once the popup appears, you have to follow the three-step process. It contains,
Choose Category
Describe the bot's nature
Give the example of your broadcasts
Step A: Choose the Category
In this step, you have to choose which category your subscription messages supports. That three categories are,
News
Productivity
Personal Tracking
Step B: Describe the Bot's Nature
After selecting the category, you have to provide the additional details about your blog like the purpose of your bot's subscription messaging and its nature.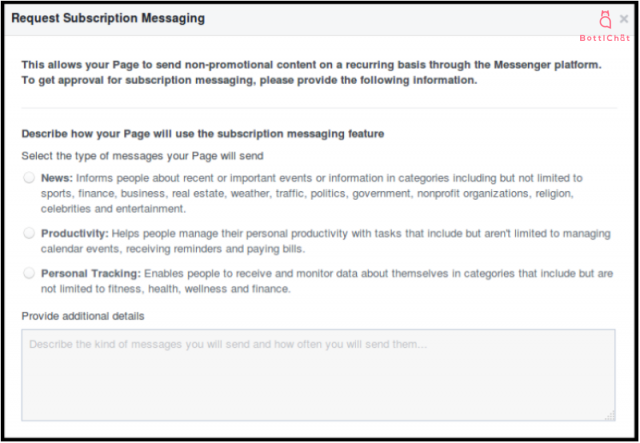 For example, in our BottlChat, we select the "News" category.
Because other categories are particular to choose the business helps the customer to provides useful information and product as well as blog updates, which comes under the news category. Here our BottlChat offers valuable information and updates on a periodic manner through this feature.
Step C: Example of your Broadcast
After fetching the additional details, you have to provide the example of your broadcasts to get your request verified.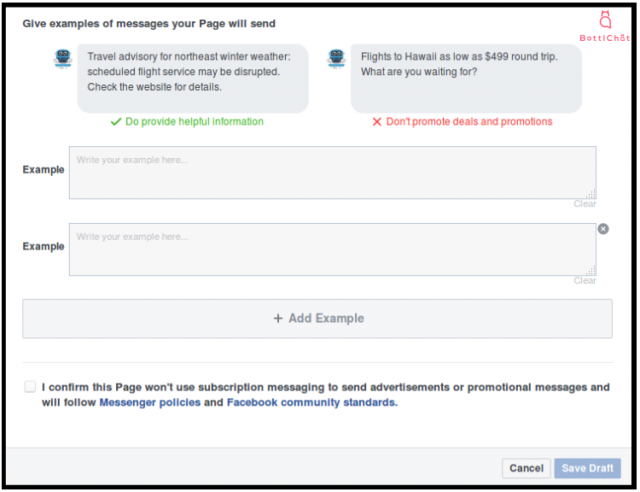 Now, you have to confirm that you will not send promotional messages and you will follow the messenger policies and standards.
Once your review is approved, you will receive the dialogue like this.

Now you can send the broadcasting message which gives you free organic traffic and a lot of other features.
What all are Facebook messenger policy?
Facebook has messaging policies to protect users from spam and other wrong messages.
This policy classifies what is "correct" and what is "not correct" which explains the terms of what kind of messages and when it has to send to their subscribers.
On-time, these policies are evolved to give the best service to the user. Now the policies are straight forward, and they are
You can send promotional or non-promotional messages to the user which they have interacted with your bot in the past 24 hours.
If you want to send messages after this 24-Hour messaging window, you need to use subscription messaging features which does not fall under this time frame. You can also use 4 other tag in which your message is eligible for different messaging tags. (To know more about these tags select here).
You can also send promotional messages within this 24-hour window. It is paid advertisement on messenger which allows you to re-engage the subscriber who already had a conversation with you in the messenger. You cannot send the promotional messages to the users who had blocked you in messenger.
Tips to Get your Subscription Messaging Approved
Facebook is manually processing the request, and the time varies for every application. You have to be careful while providing additional details and examples while applying.
Facebook will not allow you to send promotional messages on this subscription messaging features.
They will use machine learning to understand the pattern of the broadcasts. Make sure you will provide the correct examples and the description of your bot which give additional details.
Below are a few examples of the subscription messaging examples which you need to fetch on the example tab. The list of the examples is,
"We have a new blog post, which helps you a lot".
"Do you want to know how to use your time efficiently?"
"Need a definitive guide to improve your social media engagement?"
"Top 10 places where you can visit this vacation."
"Learn How to become a strong influencer with these tips."
You can take this as an example and adapt that for your business. We suggest you provide examples while applying.
Have Any Doubts?
We hope you get the information that you need for Facebook subscription messaging. Some people still have some doubts as it was new and it needs some guidance to get approval, even after many rejections.
What if I don't Apply?
Facebook will not take any action if you don't apply for this feature. But you can't send subscription messages to your audience, which brings you free and complete organic traffic.
If you want to send broadcast messages, you need to pay for them. So, don't miss the opportunity, which helps you a lot to improve your business.
How much time will it take to get my request reviewed?
Generally, it will 4 to 5 business days to get reviewed. Sometimes it will take months to get approved.
Do I have to apply for every profile and Page individually?
Yes, Since the Facebook needs page-level access for this subscription messaging, you need to apply for every Page and profile individually. If you need to apply multiple pages for this feature, you can use the Messaging feature review API.
What if my Request Got Rejected?
If your request got rejected, you need to look out the additional details and examples that you are providing and resubmit the form. Make sure you give the proper information and examples which describes your bot correctly.
Will this Approval Request Affect my Sequence?
A lot of peoples have this confusion, and the answer is NO, it will not affect the sequences that you have automated.
Once a user comes to your Page's inbox and clicks "Get Started" your sequence flow will generally work as it is.
You can't able to send any subscription messages to the subscribes, till you got the approval. That's all.
Conclusion
If you want to use this exciting feature, you have to act now. Chances will take two or even three considerations to get the green signal (green mark) on your review.
Always appeal your application till you get approved.